Published1 day agoShare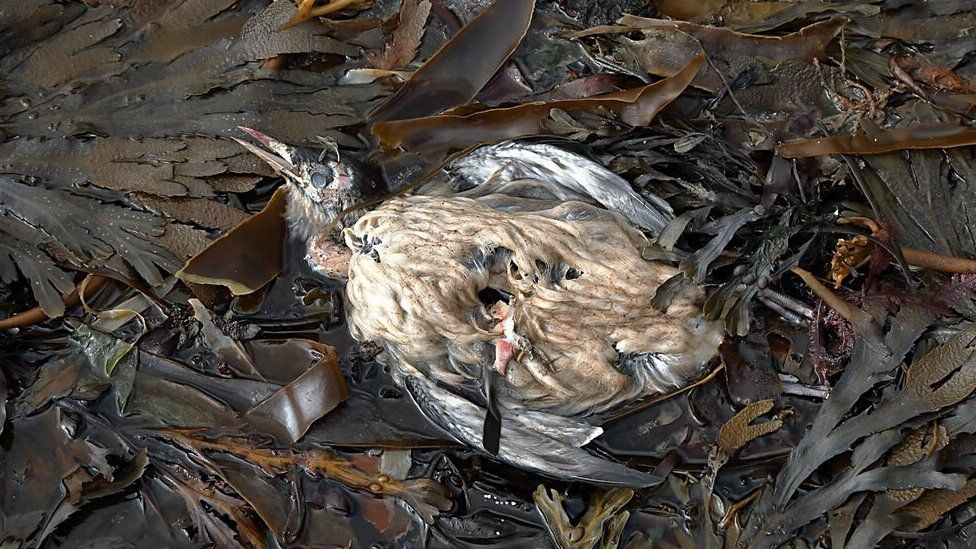 https://www.bbc.com/news/uk-england-tyne-58601859
An "unprecedented" number of seabirds have been found dead or starving along the Northumberland and Scottish coasts.
Hundreds of guillemots and razorbills and smaller numbers of puffins and kittiwakes have been affected but the cause of their suffering is unknown.
The UK Centre for Ecology and Hydrology (CEH) has ruled out bird flu but is investigating other possible causes such as poisoning from algal blooms.
CEH ecologist Dr Francis Daunt said "several hundred" birds had died.
Over recent weeks carcasses have been found along the east coast of Britain, from Orkney down to Northumberland and North Yorkshire.
'Unheard of'
Dr Daunt said the "vast majority" of cases were guillemots.https://buy.tinypass.com/checkout/template/cacheableShow?aid=tYOkq7qlAI&templateId=OTBYI8Q89QWC&templateVariantId=OTV0YFYSXVQWV&offerId=fakeOfferId&experienceId=EXAWX60BX4NU&iframeId=offer_0e763acc7b457c03340a-0&displayMode=inline&widget=template
"The birds are emaciated – they are little more than skin and bone with many half their usual weight which is catastrophically low," he added.
"They have been seen feeding very close to beaches in amongst swimmers, when normally they steer clear of people, and have been observed up to 20 miles up rivers, which is unheard of for this marine bird.
"These are signs that the birds are getting desperate in their search for food."
Dr Daunt said the fact that the birds appeared to be starving "might suggest a lack of good quality fish in the sea" but the presence of many feeding flocks along the coasts suggested it was "caused by something else".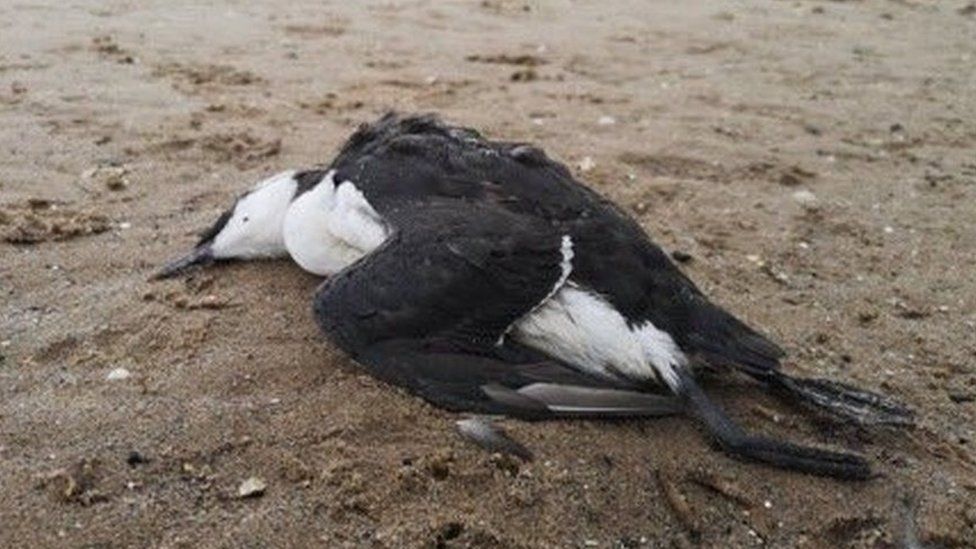 Other birdwatchers have seen birds washed up in clusters with live birds "just bobbing about beyond the surf", apparently not feeding.
Large colonies of guillemots nest annually on islands off the coasts of Scotland and Northumberland.
They spend most of their time at sea and come back to land to breed.
Senior curator in charge of birds at the Natural History Museum, Dr Alex Bond, said mass deaths, known as wrecks, were not unusual but usually occurred in winter and during bad weather.
"Guillemots spend most of their time on water, not on land, so a big storm can beat them up a bit," he said.
"The fact we're seeing lots of them in unusual places suggests this wreck is something quite different."
The CEH is recording the number and location of dead birds and will carry out post-mortem examinations on their bodies.
It will then monitor breeding colonies next spring to see if numbers are reduced.