https://www.bbc.com/news/world-middle-east-57552639
Published5 hours agoShareRelated Topics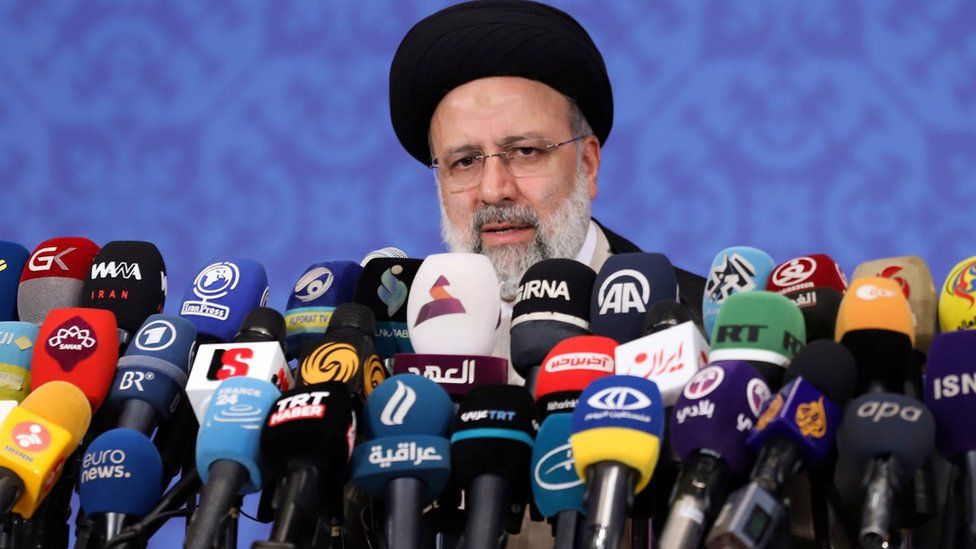 Iran's president-elect has welcomed the negotiations with world powers aimed at reviving a 2015 nuclear deal but said they must guarantee national interests.
At his first news conference since his victory in Friday's election, Ebrahim Raisi promised he would not allow the talks in Vienna to be dragged out.
He also insisted that Iran's ballistic missile programme was "not negotiable".
The nuclear deal has been close to collapse since the US abandoned it and reinstated sanctions three years ago.

Iran nuclear crisis: The basics
World powers don't trust Iran: Some countries believe Iran wants nuclear power because it wants to build a nuclear bomb – it denies this.
So a deal was struck: In 2015, Iran and six other countries reached a major agreement. Iran would stop some nuclear work in return for an end to harsh penalties, or sanctions, hurting its economy.
What is the problem now? Iran re-started banned nuclear work after former US President Donald Trump pulled out of the deal and re-imposed sanctions on Iran. Even though new leader Joe Biden wants to rejoin, both sides say the other must make the first move.

Mr Raisi, a hard-line Shia Muslim cleric who is head of Iran's judiciary and is close to Supreme Leader Ayatollah Ali Khamenei, won Friday's election by a landslide, with 62% of the vote in the first round.
However, turnout was just under 49% – a record low for a presidential poll in the country since the 1979 Islamic Revolution – following calls for a boycott from dissidents and some reformists in response to the disqualification of several prominent candidates who might have provided serious competition.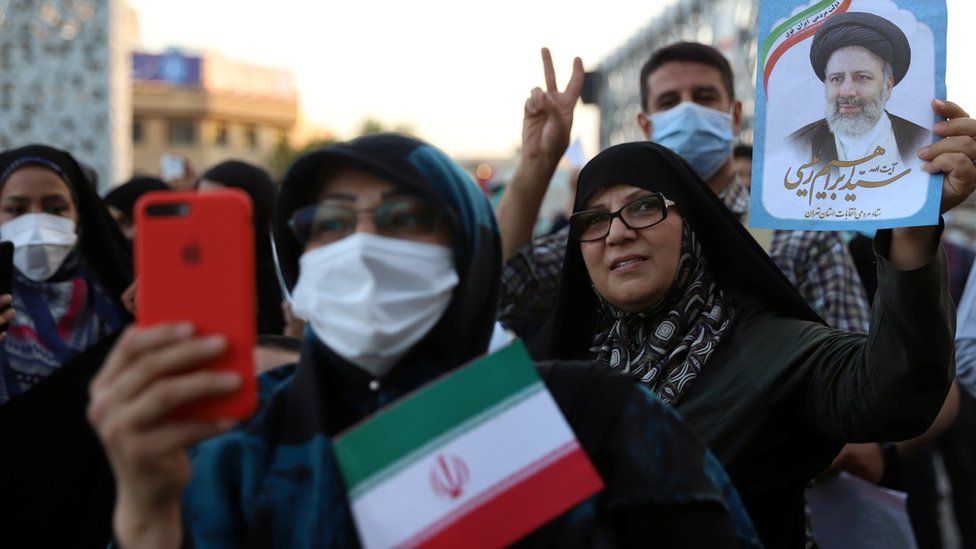 On Monday, Mr Raisi described Iranians' participation in the election as a message of "unity and cohesion", and a sign that they continued to "walk the path" of the founder of the Islamic Republic, Ayatollah Ruhollah Khomeini.
He also said voters had given him a mandate to "fight against corruption, poverty, and discrimination", which he had accused the moderate President Hassan Rouhani of failing to tackle during the campaign.
Mr Raisi said his approach to foreign policy would not be limited by the nuclear deal negotiated by Mr Rouhani, which saw Iran agree to limit its nuclear programme in return for sanctions relief.
On the Vienna talks, he said: "We will not allow negotiations to be for negotiations' sake. Negotiations should not be dragged out but each sitting should bear results. A result-oriented [negotiation] is important to us and it should have an outcome for the Iranian nation."
Mr Raisi urged the US to immediately return to the deal and lift all the sanctions that have crippled the Iranian economy. When asked if he would meet President Joe Biden if it did so, he replied: "No."https://emp.bbc.com/emp/SMPj/2.43.2/iframe.htmlmedia captionIran election: Wariness and welcome for Ebrahim Raisi
He likewise dismissed the possibility of any negotiations over Iran's ballistic missile programme and its regional policies, including its support of armed groups in several countries, despite calls by Western countries for them to be part of any new agreement reached in Vienna.
On Sunday, Iran's chief nuclear negotiator Abbas Araqchi said representatives in Vienna were "closer than ever to an agreement", but that bridging the remaining gap was "not an easy job".
Israel's new Prime Minister, Naftali Bennett, meanwhile warned world powers "to wake up before returning to the nuclear agreement".
He said Mr Raisi, who was involved in the mass executions of political prisoners in 1988 when he was Tehran's deputy prosecutor, was part of a "regime of brutal hangmen".
When questioned about his human rights record on Monday, Mr Raisi said: "I am proud to have defended human rights in every position I have held so far."

Analysis
By Kasra Naji, BBC Persian
Ebrahim Raisi's statements in his first news conference as president-elect are not going to reassure many people, whether about policies at home, or about Iran's engagement with the outside world. He painted a picture of a hardliner who is set in his ways.
He is best known for his role in signing off on the execution of thousands of Iranian political prisoners in 1988. He is sanctioned by the US for his role in human rights abuses. But he seemed unapologetic, saying he had helped bring security to the nation, and that he should be praised and thanked for what he had done. This issue will not doubt continue to overshadow his presidency.
As the head of the judiciary, he has presided over many cases of gross injustice, particularly relating to human rights activists like Nasrin Sotoudeh. There was nothing in his comments to suggest we will see an improvement in Iran's human rights record. Mr Raisi said he had always endeavoured to fight for the human rights of the people.
On the indirect talks with the US in Vienna he was ambivalent, although he said they would continue if there were clear achievements. He was softer than expected on Israel, saying nothing except that Iran would continue to support the Palestinians. And he was enthusiastic about expanding relations with China. He said he would regard the implementation of a long-term co-operation agreement with China as a priority.
Mr Raisi projected no particular personal character that would mark the next four years in his image. Already, some observers are saying he will be the executive officer for Ayatollah Ali Khamenei, who they believe will be driving policies at home and abroad more than before.