President has signalled he would like US 'back to work' as soon as possible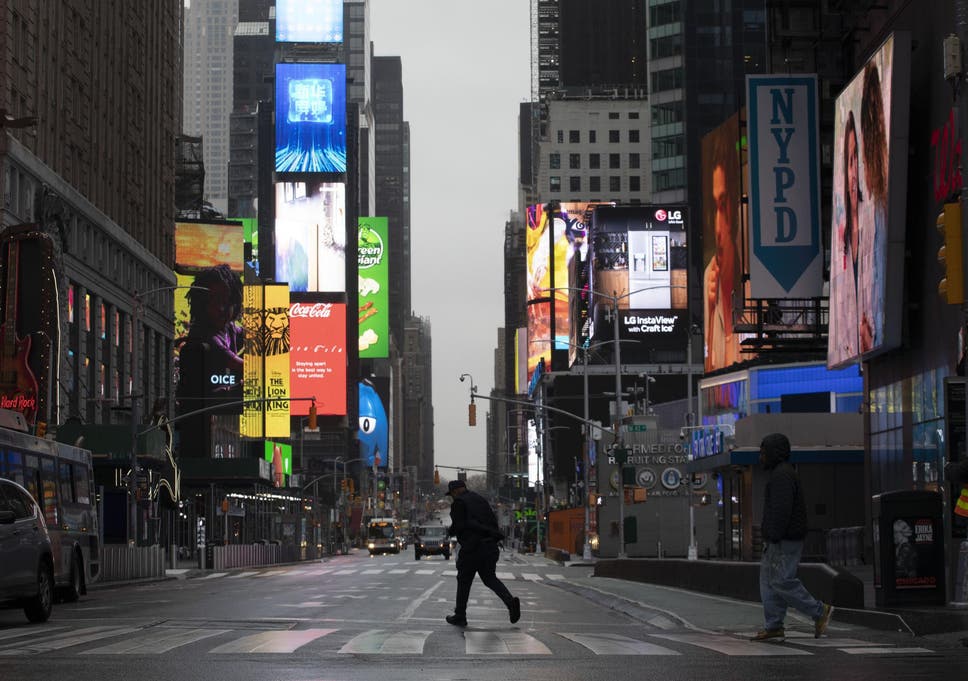 A leading US public health expert has warned of devastating consequences if the US ends its social distancing policies too soon, saying that COVID "could kill potentially millions" if the measures aren't followed.
Tom Inglesby, a director at the Johns Hopkins Center for Health Security, issued his stark warning in a Twitter thread rebuking others for their hopeful statements that the country could be ready to return to normal life within as little as two weeks.
Addressing his thread to "anyone advising the end of social distancing now", Mr Inglesby lays out how the practice of strict distancing measures in affected Asian countries has helped dramatically slow the virus's advance, bringing down the numbers of people who contract the disease and of those who become critically ill.
Pointing out the gap between those countries and the situation in the US, he explained the implications of lifting restrictions at this point in the outbreak's progress.
"These big social distancing measures take time to work. The impact of big interventions in Wuhan China took about 3 weeks to start to reverse things. And then everyday after the situation got better. In the US, we're about 7 to 10 days into this, depending on the state. To drop all these measures now would be to accept that COVID patients will get sick in extraordinary numbers all over the country, far beyond what the US health care system could bear."
Instead, the US should focus on a range of critically important measures to slow the epidemic down while protecting healthcare workers and treat those who need urgent care – everything from screening at airports to new tests to masks and protective equipment in "extraordinary quantity".
Only when these things are done, he writes, will the US be able to get to the same point as countries that have turned the tide: "We'll need to reduce the # of cases to such a low level that we could again do contact tracing & isolation of cases around the country (as they can in many countries in Asia now)."
Donald Trump and some of his supporters have lately been talking up the need to save the economy from the effects of the outbreak, with the president himself saying that "our country wasn't built to be shut down" and that "America will again and soon be open for business".
One Republican official in Texas went so far as to suggest older Americans accept a risk to their survival as the price to pay for keeping the economy afloat.
Mr Inglesby, however, emphasises that the consequences of returning to "normal" life prematurely would be dire, and not just epidemiologically.
"Anyone advising the end of social distancing now, needs to fully understand what the country will look like if we do that. COVID would spread widely, rapidly, terribly, could kill potentially millions in the year ahead with huge social and economic impact across the country."