ttps://www.theguardian.com/vulcan-partner-zone/2017/mar/14/six-women-who-work-to-save-the-worlds-most-endangered-wildlife?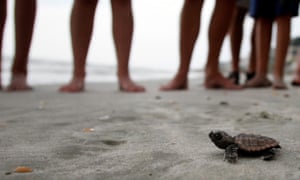 1 'My experiences inspired me to pursue this career'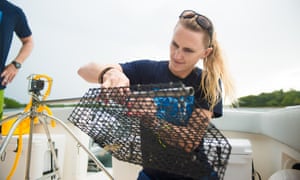 Elizabeth Whitman is a doctoral candidate in the department of biological science at Florida International University. She has developed a research programme focusing on the factors influencing habitat use of green turtles and the role of this endangered species in marine ecosystems.
Whitman says that her upbringing played a significant part in her decision to pursue a career in conservation. "My mother always encouraged me to explore my surroundings and I was fortunate enough to be able to travel and experience a variety of environments at a young age. These experiences inspired me to pursue a career in science, to assist conservation and management of marine species and their ecosystems."
Whitman is also part of the Global FinPrint team, a Paul G Allen initiative that brings together an international research team and collaborators to fill a critical information gap about the diminishing number of sharks and rays.
Click here to learn more about Global FinPrint.
2 'I can't afford to see elephants die like this'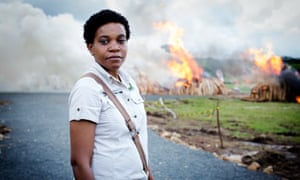 Georgina Kamanga is the first woman to head the intelligence and investigations unit of the Department of National Parks and Wildlife Zambia. Kamanga works to show that African governments and individuals are passionate about protecting wildlife, often risking both economic and personal safety. "I'm now taking the whole thing very personal. I can't afford to see elephants die like this. I can't."
She also features in Vulcan Productions' award-winning documentary The Ivory Game, which is now streaming on Netflix.
Click here to learn more about Kamanga and her work.
3 'Discover your niche and persist'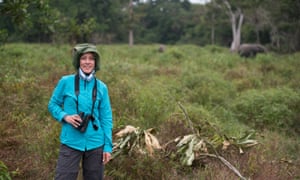 Dr Kathleen S Gobush has worked toward the protection and recovery of numerous endangered species across the globe for 19 years. She joined Vulcan in 2014 as a senior project developer and wildlife expert. She has developed landscape analyses and impact strategies for Vulcan's African elephant and rhino conservation programme and manages a multi-million-dollar portfolio of projects.
Gobush also co-leads the Domain Awareness System, a Vulcan Tech anti-poaching technology project that unites three premiere conservation organisations in Africa, as well as the great elephant census-forest initiative with the Wildlife Conservation Society, Agence Nationale des Parcs Nationaux (ANPN) of Gabon and other partners.
She encourages women considering careers in wildlife protection to persevere. "Wildlife conservation has many facets – science, policy, law, advocacy etc. Discover your niche, find the setting where you can best exercise your voice and unique perspective and then persist."
Click here to learn more about Vulcan and their conservation work.
4 'We have to build public support to push politicians'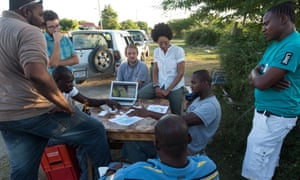 Dr Ayana Elizabeth Johnson is a PhD marine biologist, policy expert and conservation strategist. Her mission is to build bridges between science, policy and people, so we can use the ocean without using it up.
Her consulting practice provides integrated ocean conservation strategy and communications support for everyone from Greenpeace to the NY Aquarium. She co-founded the Blue Halo Initiative and led the Caribbean's first successful island-wide ocean zoning project, resulting in one third of Barbuda's coastal waters being protected.
She says her biggest challenge is getting government representatives to act. "Lack of political will is the biggest challenge I see right now in ocean conservation. Politicians seem afraid to lead on conservation and sustainability, even though it makes economic sense, so we have to build public support to push them."
Click here to watch Johnson's TED talk and learn more about her work.
5 'I do this because I want to save what I love'
Captain Oona Layolle is the Sea Shepherd captain of the M/V Farley Mowat in Mexico's Gulf of California. The Sea Shepherd conservation campaign aims to save the vaquita, an almost extinct porpoise. Criminals illegally target a protected fish called the totoaba and the vaquita is snagged as by-catch.
Despite her work putting her at risk from retribution from Mexican cartels involved in the totoaba trade, Layolle is determined to make a difference. "I want the oceans to be as beautiful as when I was a kid. I do this because I want to save what I love. I want to fight for the ocean."
You can watch Layolle at work in the Animal Planet and Vulcan Productions series Ocean Warriors.
Click here to learn more about Sea Shepherd.
6 'It is tremendously rewarding to know I have made a difference'
Dr Susan Lieberman, vice president of international policy with the Wildlife Conservation Society (WCS), has worked in international biodiversity conservation at the intersection of science and policy for 30 years.
Lieberman is a member of the International Union for the Conservation of Nature's tortoise and freshwater turtle specialist group, and the United for Wildlife/Royal Foundation Transport Taskforce, and was on Barack Obama's wildlife trafficking advisory council.
She says a career in wildlife protection is full of rewards. "It is tremendously rewarding when I know I have helped make a difference for the conservation of wildlife species on the ground and in the water.
"I have also found it incredibly rewarding to meet so many dedicated conservationists around the world, often fighting against overwhelming odds."
Click here to learn more about WCS.
Content on this page is paid for and provided by Vulcan, a sponsor of the Guardian's Global Development Professionals Network.